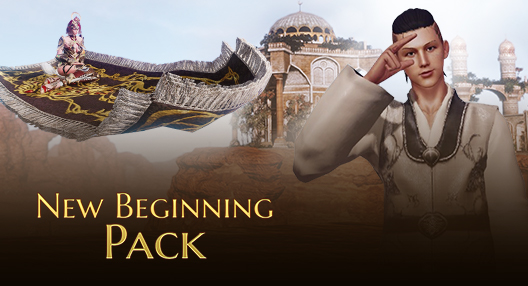 Get a brand new perspective of the world of Erenor in ArcheAge: Unchained and get a fresh start with the New Beginning Pack!
Take a ride on a Magic Carpet and travel to the unknowns of the furthest points of Erenor!
The New Beginning Pack contains the following:
- Magic Carpet Magithopter
This lush rug is anything but a decor piece for your homes! Use this Magithopter to take to the skies whimsically.
- Restless Dancer Costume
These elegant silks are designed to mimic those worn by Naima when she performed her people's traditional rituals that have since been banned by the priests in Delphinad.
- Duskglow Waistcoat Ensemble
A traditional handcrafted Ensemble, perfect when taking to the skies!
Digital Downloads Terms and Conditions
This game is a digital download of software only; Trion will not send you anything. This software will need to be downloaded to your computer, but no physical box, discs or other materials will be provided to you. You must download the game's files to each machine on which you wish to play this game. The download and use of this game is subject to the End User License Agreement, Terms of Use , and Privacy Policy.
This is an Internet-only game which requires players to connect to Trion servers via their own Internet connections. Players are responsible for their own Internet connection service and all Internet-related fees.
Trion Worlds does not ensure continuous or error-free access, use, or availability of any game content, feature, gameplay, or server and may change, modify, disable, suspend, or remove any such content, feature, gameplay, or server at its sole discretion.