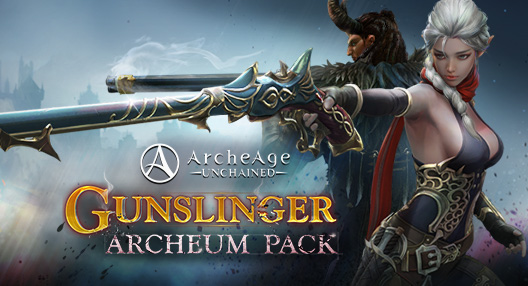 Discover Your Legendary Self!
Take up arms in your finest costumes, Gunslinger, then take to the skies with the loyal Griffin that will always protect you.
INCLUDES:
Game Access:
ArcheAge: Unchained
Expansion access :Garden of the Gods
Fresh Start Server Access
2x Saving Pendant

4x Bound Expansion Scroll

Credits:
4000
Glider Customization:
Marauder's Glider
1x Bar Counter Furniture Set
1x Bound Anywhere Warehouse
1x Advanced ArchePass Upgrade Ticket
3x Hasla Weapon Skin Crate
3x Bound Hellkissed Weapon Crate
Skillset:
Gunslinger Tome
Costume:
Black Night Costume
Costume:
Lawkeeper Costume
Mount:
Nocturne Griffin (without Armor)
Glider Customization:
Rocket Wings #2
You asked and we provided. Welcome to ArcheAge: Unchained!
Digital Downloads Terms and Conditions
Please note: There is a limit of 3 accounts per player in ArcheAge: Unchained. Bypassing these restrictions can result in disciplinary action taken on the accounts in question. This game is a digital download of software only; Trion will not send you anything. This software will need to be downloaded to your computer, but no physical box, discs or other materials will be provided to you. You must download the game's files to each machine on which you wish to play this game. The download and use of this game is subject to the End User License Agreement, Terms of Use , and Privacy Policy.
This is an Internet-only game which requires players to connect to Trion servers via their own Internet connections. Players are responsible for their own Internet connection service and all Internet-related fees.
Trion Worlds does not ensure continuous or error-free access, use, or availability of any game content, feature, gameplay, or server and may change, modify, disable, suspend, or remove any such content, feature, gameplay, or server at its sole discretion.